---
Disruptive technology is changing business models faster than ever before.
---
We enable you to navigate the new frontier of technology to make informed and sound decisions for your organisation.
We focus on robots, drones and artificial intelligence and combine our technological expertise and business understanding to help you understand the opportunities and challenges of disruptive technology.
TECHNOLOGIES WE FOCUS ON

ARTIFICIAL INTELLIGENCE
Advances in Artificial Intelligence enable machines to execute tasks and solve problems normally attributed to humans. They perform better over time by continuously learning from experience and are already replacing human labour in job functions like journalism, legal advise and accounting.

NEXT GENERATION ROBOTICS
Next Generation Robotics makes human-machine collaboration  a reality. Better and cheaper sensors enable robots to operate alongside people, moving them from production lines into our everyday lives.

DRONES
Machines that fly completely autonomously is the next phase for drone technology. This completely changes business models as we know them as it makes us capable of gathering vast amounts of data from the sky.

FROM THE BLOG
Advances in technology suggest the world of work is on the brink of a new automation age, in which machines, robots and artificial intelligence graduate from routine tasks on the factory floor to activities across industries, skill sets and pay scales. Based on groundbreaking McKinsey research, this report shows that a staggering 40 percent of Danish working hours could be automated by current technologies.
"The future belongs to those who know how to take advantage of data" was the vision of KL's Political Summit in Aalborg.
Participants in KL's Municipal Political Summit in Aalborg got a powerful shot of visions when Alec Ross, technology policy expert, former Innovation Council provides for Hillary Clinton summarized the book 'The Industries of the Future'. Alec Ross gave substantial input on the role of technology in the welfare state .
BrainBotics supported Aarhus Municipality's robot on stage during the talk and at the booth on the conference. 
http://dk-nyt.dk/sider/artikel.php?id=88497&p=3#.WOYCANLyjIV
A new analysis form McKinsey is an in-depth study on the effects of increased automation:
Advances in robotics, artificial intelligence, and machine learning are ushering in a new age of automation, as machines match or outperform human performance in a range of work activities, including ones requiring cognitive capabilities. In this report, part of our ongoing research into the future of work, we analyze the automation potential of the global economy, the factors that will determine the pace and extent of workplace adoption, and the economic impact associated with its potential.
Humanoid robots play a key role in the digital transformation for all customer facing industries. The humanoid robot Pepper by SoftBank Robotics is state-of-the-art and can be used for:
Welcoming – Greeting people passing by in shops and at conferences
Assistance – Help in sales and being a useful colleague
Recommendations – Tell about new and important products and services
Entertainment – Amuse customers while waiting in line by dancing, joking, giggling and animating people
Feedback – Get customer feedback and collect loyalty members
Aarhus will be European Capital of Culture in 2017 with the overall theme Rethink. As a testimonial of that, Mayor Jacob Bundsgaard greeted the guests welcome at the annual business event at Aarhus City Hall together with the robot Pepper.
At the event, it was highlighted how Aarhus continuously will work with a stronger international profile, a climate plan and how to develop and attract talent and employees.
The event was kicked off with the cool young rock band Velvet Volume. Nice way to start 2017!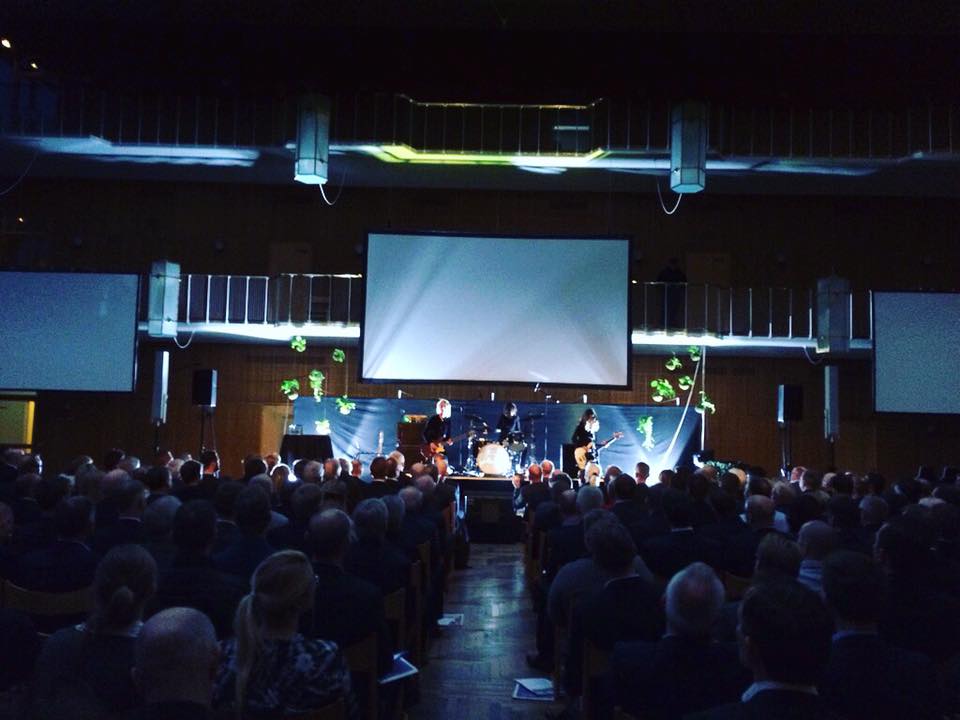 Friday the 9th of December, the Danish high school Alssundgymnasiet took a trip into the future. The regular schedule was cleared and replaced by workshops and lectures on artificial intelligence and robotics.
Pepper was the center of attention at the event Local Rock Stars in Aarhus. This one-day conference, is a partnership between companied in and around Aarhus. The purpose is to share knowledge and insights with it-professionals and students. Søren Tranberg Hansen from BrainBotics made the final keynote about robotics and AI at the event.
http://internetweekdenmark.com/2016/local-rock-stars
BrainBotics participates with the robot Norma at the Smart City Expo World Congress in Barcelona. On behalf of Aarhus Municipality, BrainBotics have been invited to program their robot to welcome people at the pavilion and to show case some of the many Danish Smart City solutions.
BrainBotics participated in the international Industry 4.0 conference organised by Innovation Centre Denmark, Ministry for Science and Higher Education and Invest in Denmark.
BrainBotics was invited in the TV studio to give a robot interview – the first of its kind in Denmark.
BrainBotics has presented a paper with the title "Physical Training of Seniors Using Robot Based Games" at the IEEE International Symposium on Robot and Human Interactive Communication (RO-MAN).